I
finally
started my Christmas baking bonanza Tuesday night. Among the many new cookie recipes I planned to make for Christmas, I decided I'd throw in a nice chocolate cookie. We never make chocolate cookies for the holidays and I thought Chocolate Crinkles would be perfect...especially because Crinkle reminds me of Kringle. I don't know why, but crinkle cookies in general remind me of winter.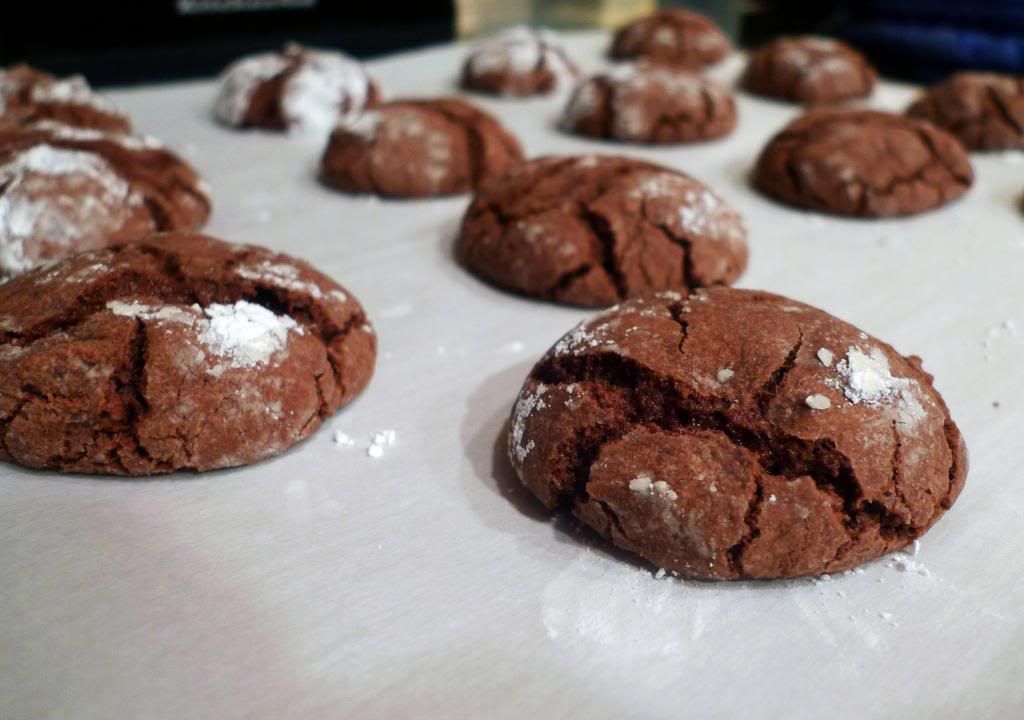 These cookies are really soft and chewy, which is the best kind of texture for a cookie if you ask me. I like that the dough is rolled in powdered sugar. It makes them look more wintery that way...as if they're covered in snow!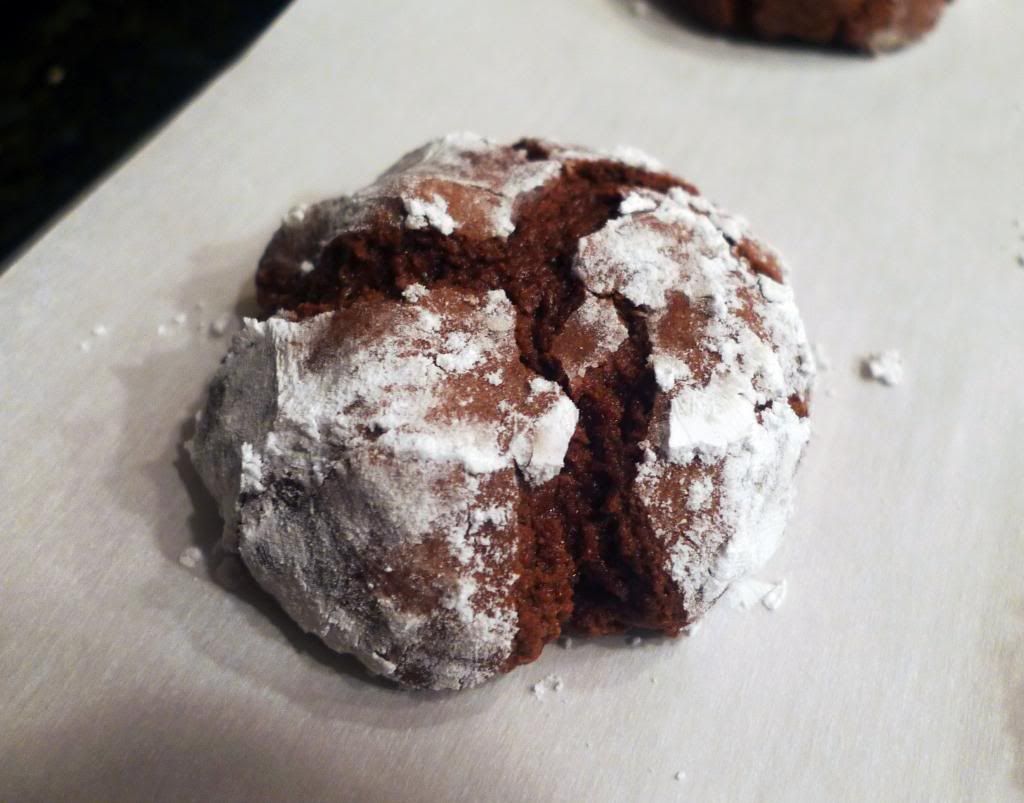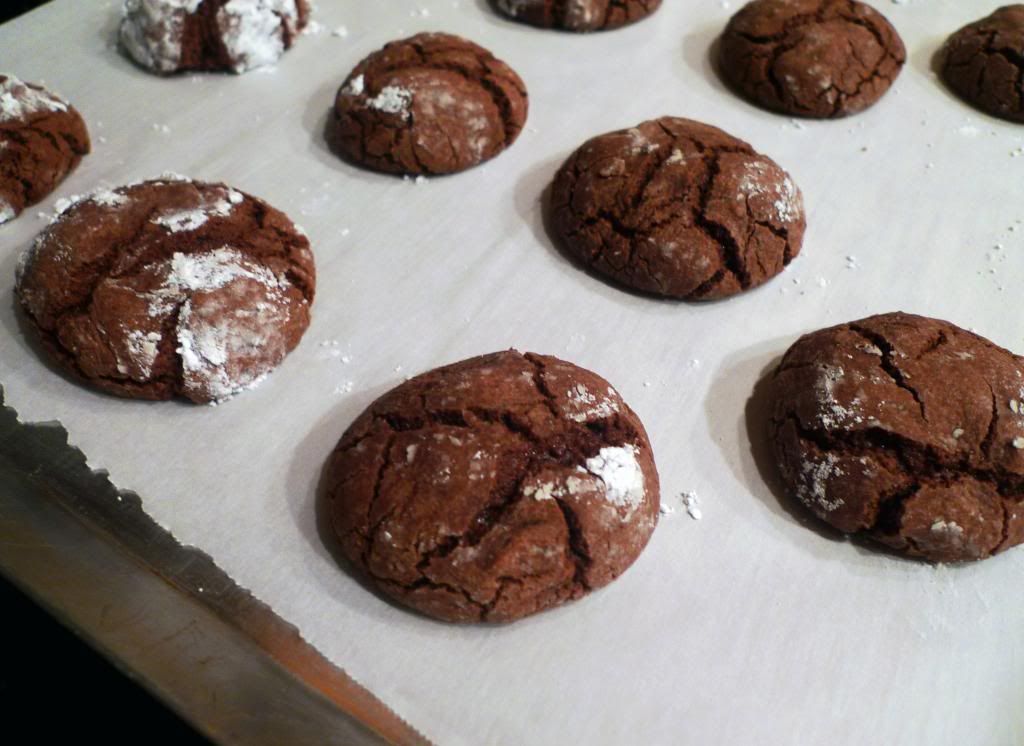 In addition to starting my seasonal bake-a-thon, I also ordered my dress for New Year's Eve. Every year I always want to wear something silver/gold and sparkly, but I can never find anything. Well...this year I finally found a cute
gold-sequined dress
! It's not exactly warm like I'd like it to be, but I can fix that with some sweater tights and a cardigan...or maybe I'll break out my leather jacket. I've gotten lucky this season with ASOS. I found both my Christmas and New Year's Eve dresses on there!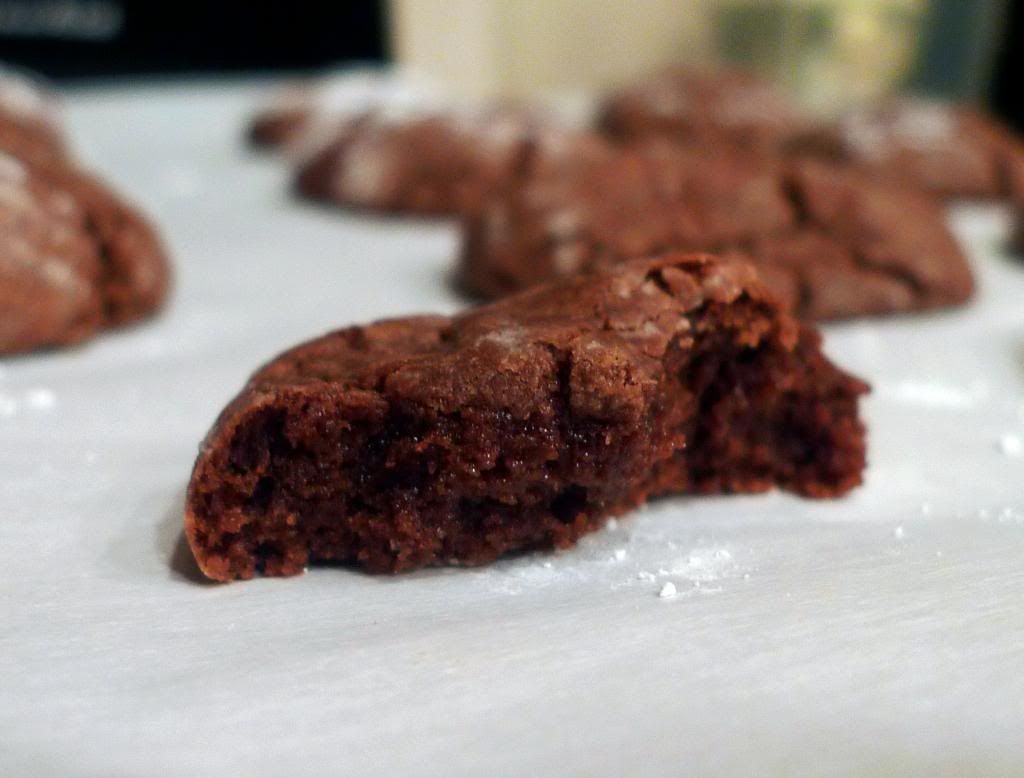 I baked some sugar cookies that I will post soon, and this weekend I will be doing the rest of my baking, along with attending another Christmas party! I'm looking forward to the long weekend I'll be having, even though it'll be a super busy one. Oh, the holiday season... :)
Chocolate Crinkle Cookies
Source:
Williams-Sonoma
Ingredients
:
1/2 cup confectioners' sugar
1 2/3 cups all-purpose flour
1/2 cup unsweetened cocoa powder
1 1/2 teaspoons baking powder
1/4 teaspoon salt
8 tablespoons (1 stick) unsalted butter, at room temperature
1 1/4 cups sugar
2 eggs
1/2 teaspoon vanilla extract
Directions
:
Preheat oven to 350°F. Put the confectioners' sugar into a bowl and set aside.
In another bowl, stir together the flour, cocoa, baking powder and salt. Set aside.
In a large bowl, beat the butter and sugar on medium speed until creamy, about 3 minutes. Turn off the mixer and scrape down the bowl with a rubber spatula. Add 1 egg and beat on medium speed until blended. Add the other egg and vanilla and beat until blended. Add the flour mixture. Beat on low speed just until blended.
Using a tablespoon, scoop up a rounded spoonful of dough. Scrape the dough off the spoon into the palm of your other hand. Roll the dough into a ball. Roll the ball in the confectioners' sugar until covered. Place the balls on a prepared baking sheet. Repeat, spacing the balls about 2 inches apart.
Bake the cookies until they are crackled and puffed, 10 to 12 minutes. Remove the baking sheet from the oven and set it on a wire rack for 15 minutes. Using a spatula, move the cookies onto the rack and let cool completely. Makes about 24 cookies.