Does anyone else love Adventure Time? It's probably one of my favorite cartoons, up there with Spongebob and Futurama. One of my best friends' birthday was last Saturday and I surprised her with this BMO cake. BMO is her favorite character from Adventure Time...and coincidentally he is mine too! I had a lot of fun decorating this cake and watching it all come together. The cake is just my go-to white vanilla cake that I found the recipe for last year and had used for my mom's birthday cake. It's the best white cake....EVER. For the decorations, I had to get a little more creative!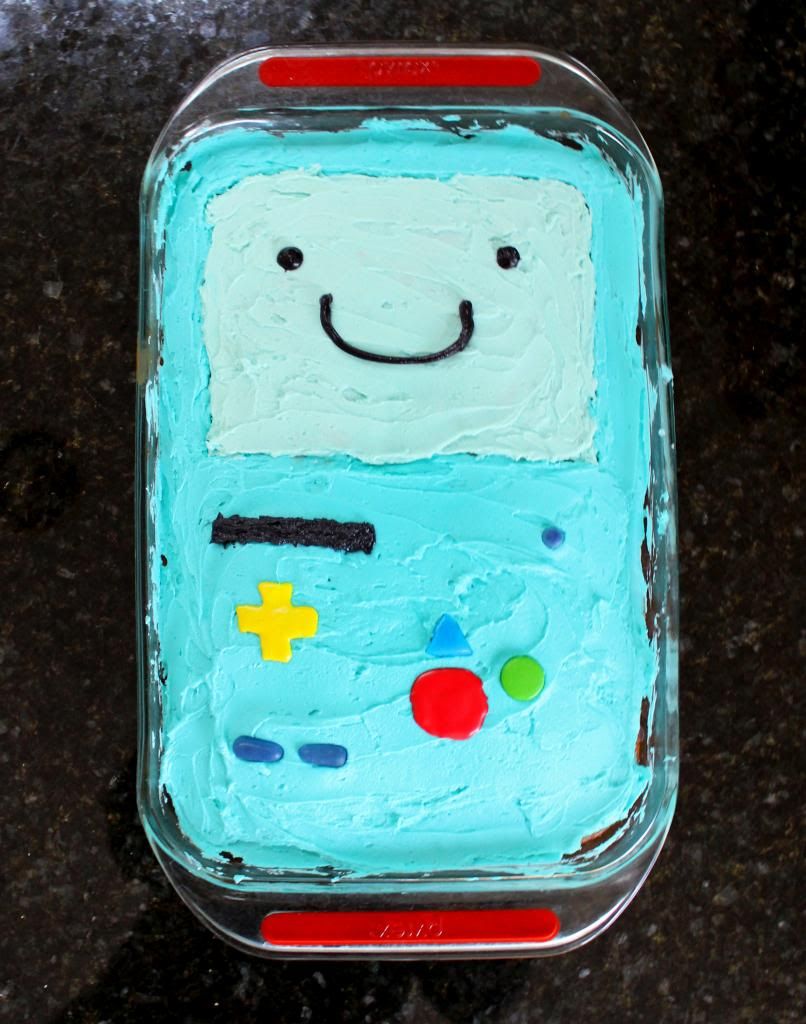 I made some buttercream frosting and used Wilton's Icing Colors in teal to dye it. To make it lighter for his face, I just separated some of the frosting beforehand and didn't mix as much coloring into it. I also took a bit of the blue frosting and put some black dye into it for his disc slot. The dark blue buttons/slots are berry Mike and Ikes, the green button is a Spree, and the blue triangle button is the corner of an Airhead that I cut out. The red and yellow buttons are just decorative writing icing that I drew on by hand. His eyes and mouth are just store-bought black decorative icing. I applied the eyes with toothpicks so that I could better shape them. You can use whatever you want for the decorations (fondant, other types of candys, just icing, etc.), but I just tried to work with what was cheapest and easiest. I don't work with fondant often, so I didn't want to get a whole box of it and then let it go to waste.
She was so surprised and thrilled when I unveiled the cake at her party. I am a huge fan of surprising people, so it was definitely very rewarding to see her reaction when I gave her the cake. She picked it up and held it like a baby...lol.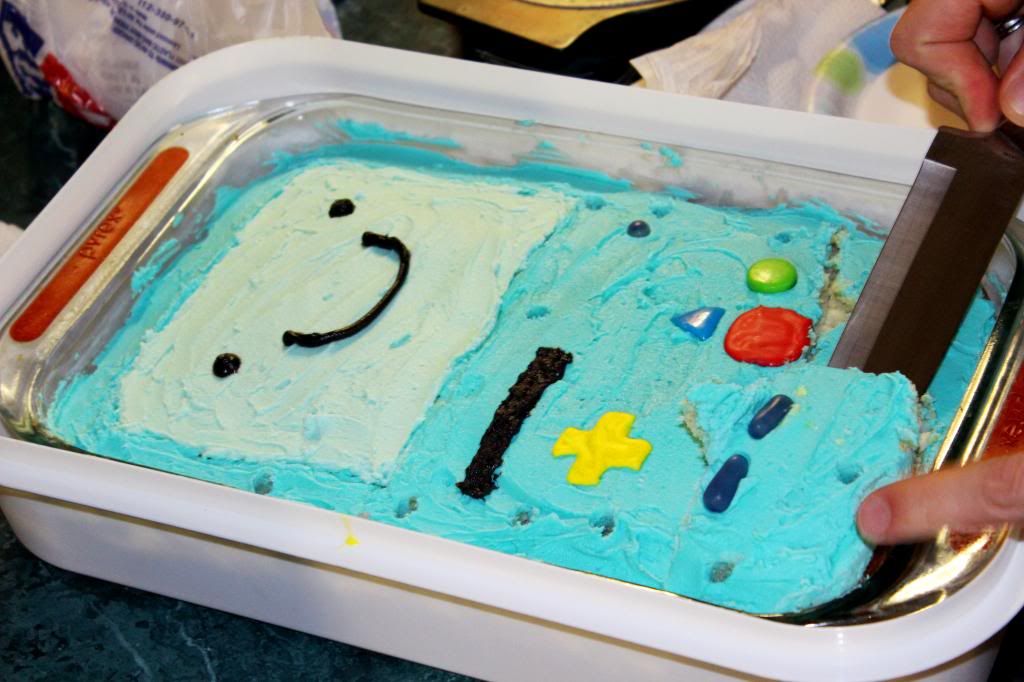 BMO Cake (Fluffy Vanilla Cake)
Ingredients:
For the Cake:
5 large egg whites, at room temperature
1 cup whole milk, at room temperature
2 1/4 teaspoons pure vanilla extract
3 cups cake flour, sifted
1 3/4 cups sugar
1 tablespoon + 1 teaspoon baking powder
3/4 teaspoon salt
12 tablespoons (1 1/2 sticks) unsalted butter, at room temperature and cut into cubes
For the Buttercream Frosting:
1 cup (2 sticks) butter, at room temperature
1 teaspoon vanilla extract
1 lb. powdered sugar
1-3 teaspoons milk (depending on how creamy you like your frosting)
Wilton's Icing Colors, in teal and black
For Decoration:
1 package of Sprees (I would try to get the smallest package possible since you only need 1 green one!)
1 blue raspberry Airhead
1 package of Mike and Ikes
Wilton's Icing Writers, in red and yellow
Black decorative icing (I used Betty Crocker's Decorating Icing)
Directions:
For the Cake:
Preheat oven to 350°F. Grease the pan and set aside. In a medium bowl or measuring cup, combine and stir the egg whites, 1/4 cup of milk, and the vanilla. Set aside.
In a large bowl, stir the dry ingredients together on low speed for 30 seconds. Add the butter and remaining milk, and mix on low speed until just moistened. Increase to medium speed and mix for 1 1/2 minutes. Scrape the sides of the bowl and begin to add the egg mixture in 3 separate batches; beat on medium speed for 20 seconds after each addition.
Pour the batter into the pan, spreading it evenly. Bake 25-35 minutes or until a cake tester comes clean when inserted into the center. Be so careful to not over-bake. Check cake at 20 minutes, but not before, and once you feel it's almost ready, set the timer for 2 minute intervals. If you're going to take the cake out of the pan, let it cool on a rack for 10 minutes before loosening the sides with a small metal spatula, and invert onto greased wire racks. Gently turn the cake back up, so the top is up. If you want to leave the cake in the pan, then just set it on a potholder or rack and allow it to cool. Let it cool completely before frosting it.
If you plan on baking ahead of time, wrap the cake tightly and store at room temperature for up to 2 days, refrigerator for up to 5 days, or frozen for up to 2 months. It is best eaten the same day as baked.
For the Buttercream Frosting:
Using a mixer, cream softened butter and vanilla until smooth. Add sugar gradually, allowing butter and sugar to cream together before adding more.
If you want your frosting a little creamier, add a teaspoon of milk at a time and beat on high until you get the right texture. Separate a small portion of the frosting to use for BMO's face. Use teal icing color to tint the frosting, making the smaller portion lighter than the rest.
Making BMO:
Start by frosting a little more than half of the cake with the darker teal frosting. I use a
thin, angled spatula
to frost my cakes. The width of my spatula was perfect for the border around BMO's face. Use the darker teal frosting to frost around the edges of the cake, leaving a blank square of cake for BMO's face.
Using the lighter teal frosting, start to fill in the blank square of cake. I found that it was hard to get the edges where the two colors meet properly coated, so I used a toothpick at the edges and then carefully smoothed it over with the spatula.
Once the cake is frosted, you can start making BMO's face! I started with his eyes. Squeeze out some of the black decorative icing onto a napkin and use a toothpick to paint it onto the cake. Place the eyes evenly onto the lighter teal square. Use the toothpick to shape the two dots into nice, round circles. For the mouth, just squeeze the black decorative icing in the shape of a smile! I practiced on a paper towel first.
Now that the face is done, you can move onto the body. BMO has a dark green slot for discs. Since I couldn't get the right color for that, I just used black. Take some of the teal icing and use black icing color to dye it black. Use this to paint into a long rectangular strip for the slot. I used the end of the angled spatula and then used a toothpick to shape it and smooth it out.
Using yellow icing writer, paint on the D-pad (the cross-shaped button). Again, I practiced on a paper towel first. Use the red icing writer to draw on the large circular button.
Now for the easier part... Take two dark blue Mike and Ikes and press them lightly into the frosting for the two controller slots. Cut the end off of a third one and use it for his power button. Cut a corner off of the blue Airhead so that you end up with a triangle. Trim it slightly to get it a little thinner if it comes out too wide. Press the triangle into the frosting above the red circle. Take a green Spree and press it into the frosting next to the triangle and red circle. Shmowzow! You have a cute and totally math BMO cake! :)